Visas
I wrote the pieces below some time ago and up to now the Government under Theresa May has not softened its approach to the treatment of overseas students, counting them in net migration figures despite all the good arguments made that their presence here is only temporary and this simply inflates immigration figures unnecessarily. On wash up of the Higher Education and Research Bill there is a chance that the amendment to exclude them won in the Lords proposed by Lord Hannay will be allowed top top through. Let's see!
Over the past few years I and my Lib Dem colleagues have been interrogating government on their approach to visitors and visas, principally as they apply to overseas students but also for tourists, visiting artists and business people who are such an important source of economic and cultural benefit to the UK. 
The latest HEFCE figures demonstrating the first dip in international student entrants to English higher education courses in nearly three decades illustrate the dangers graphically.
See the separate page on the Immigration Bill and below for what has been a running battle over the past few years on a variety of visa issues.
Government Embarrassed by UKBA interpretation of Visa Policy
Last year  asked Lord Taylor the Home Office Minister the following question
Lord Clement-Jones (LD): My Lords, is my noble friend the Minister aware of the case of the singer and composer Pamela Z, who came from San Francisco on a PPE  [permitted paid engagement] visa on the invitation of Sussex University and City University, London? She was held by UKBA at Gatwick for more than three hours and eventually allowed to enter only on the extraordinary condition that she could teach at Sussex but not perform at City University. Can my noble friend clarify whether non-EU performing artists invited on these visas by higher education institutes can both teach and perform? Indeed, perhaps he can tell us how to distinguish between the two on every occasion.
Lord Taylor of Holbeach: My noble friend makes a very good point. In fact, I have had some briefing on this incident and I am grateful that it has been drawn to our attention. We suspect that a deficiency in the guidance of the operation of the rules rather than the rules themselves led to this incident. I do not want to go into a lot of detail about a particular circumstance but my noble friend's comments have not gone unnoticed.
 Home Office Responds on China Visa policy 
Immigration Minister Mark Harpur MP has responded to my House Magazine article with a very full and helpful reply. See below. I am in touch with our diplomatic and trade team about how we can communicate some of these initiatives better.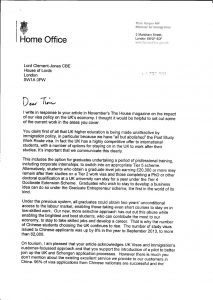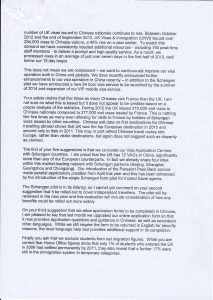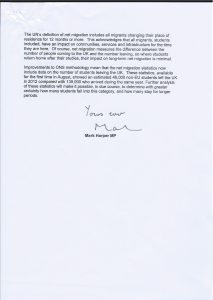 Here is the House Magazine Article I wrote on the Chinese Visa issue back in November of last year.
Recent Government visa policy seems to have been  expressly designed to cause maximum damage to our economy and reputation.
For example: Students? Let's make uk higher education unattractive for overseas students compared to the US, Canada and Australia and abolish the Post Study Work Route visa. No wonder student applications from many countries outside the EU have fallen away drastically.
Tourists? Let's make the UK an unattractive destination for high spending overseas visitors by making the UK visa more expensive and complicated to obtain than the single Schengen visa, obtainable for 26 European destinations.  No wonder Paris attracts five times more Chinese visitors than London. We appear to be foregoing something of the order of £ 1.2 bn in income by comparison.
Particularly as regards Chinese tourists and students, visa policy to date appears to have taken no account of the risks and rewards involved. The level of abuse by Chinese students  for example has been minimal-after all Chinese postgraduate students have excellent prospects in China. On the other hand over 100,000 Chinese students bring huge benefits to our higher education institutions and their host towns and cities- this is more than £2 billion per annum
Likewise Chinese tourists mainly visit in groups and spend per head more than any other nationality, delivering some £300 million annually to the UK economy or £1,600 per head. Quite apart from the immediate benefits as London First emphasise, today's tourists are also often tomorrow's business visitors and potential investors. Student alumni are a growing  and important source of soft power for the UK and a valuable cultural bridge for British business.
Finally however it looks as though there is a change of heart in the offing for Chinese visitors.
The Chancellor's recent re-announcement of a pilot scheme, which should lead to a simplified process for group visas aligned with Schengen applications, is is a welcome move. This would allow Chinese tourists to apply for a UK visa using the Schengen form through approved Chinese travel agents organising group tours.
We need to go further however both in process and promotion for both students and tourists as organisations such as Universities UK, London First and Walpole have urged .
First we need to colocate our visa application centres with selected Schengen countries –especially in respect of collection of biometric data.
Second  The latest improvements need to be extended to the Free Independent Traveller category (FITs), which is a growing segment of the Chinese outbound tourism market.
Third we must make sure that all visa application forms can be completed in the Chinese language.
Fourth, as Australia did we must re-introduce a post study work route option for internships as the Australians have now done which would be hugely for the benefit of China UK trade and investment.
Finally although  there are signs of a more user friendly approach since Visas & Immigration was spun out of the UK Border Agency earlier this year we need to alter the perception that overseas students are not welcome in the UK. Inclusion of students in the net migration figures sends out all the wrong signals. The Home Office's own evidence shows that of those students who entered in 2006 only 1% had settled permanently by 2011. The sooner the Government sees sense  and excludes students from the figures the better it will be for the health of our Higher Education Sector.
Here are some other interventions over the past 3 years on the subject.
http://www.publications.parliament.uk/pa/ld201011/ldhansrd/text/110216-0001.htm#11021657001610
http://www.publications.parliament.uk/pa/ld201213/ldhansrd/text/121112-0001.htm#12111212000702
http://www.publications.parliament.uk/pa/ld201011/ldhansrd/text/101118-0001.htm#10111864000604
http://www.publications.parliament.uk/pa/ld201212/ldhansrd/text/120430-0001.htm#1204304000403
http://www.publications.parliament.uk/pa/ld201011/ldhansrd/text/100722-0001.htm#10072235000500
Students:
http://www.publications.parliament.uk/pa/ld201011/ldhansrd/text/110310-0002.htm#11031067000408